By
Marina Santos Haugen / Photos: Stig B. Fiksdal
Mar. 8 2023
5 min. read time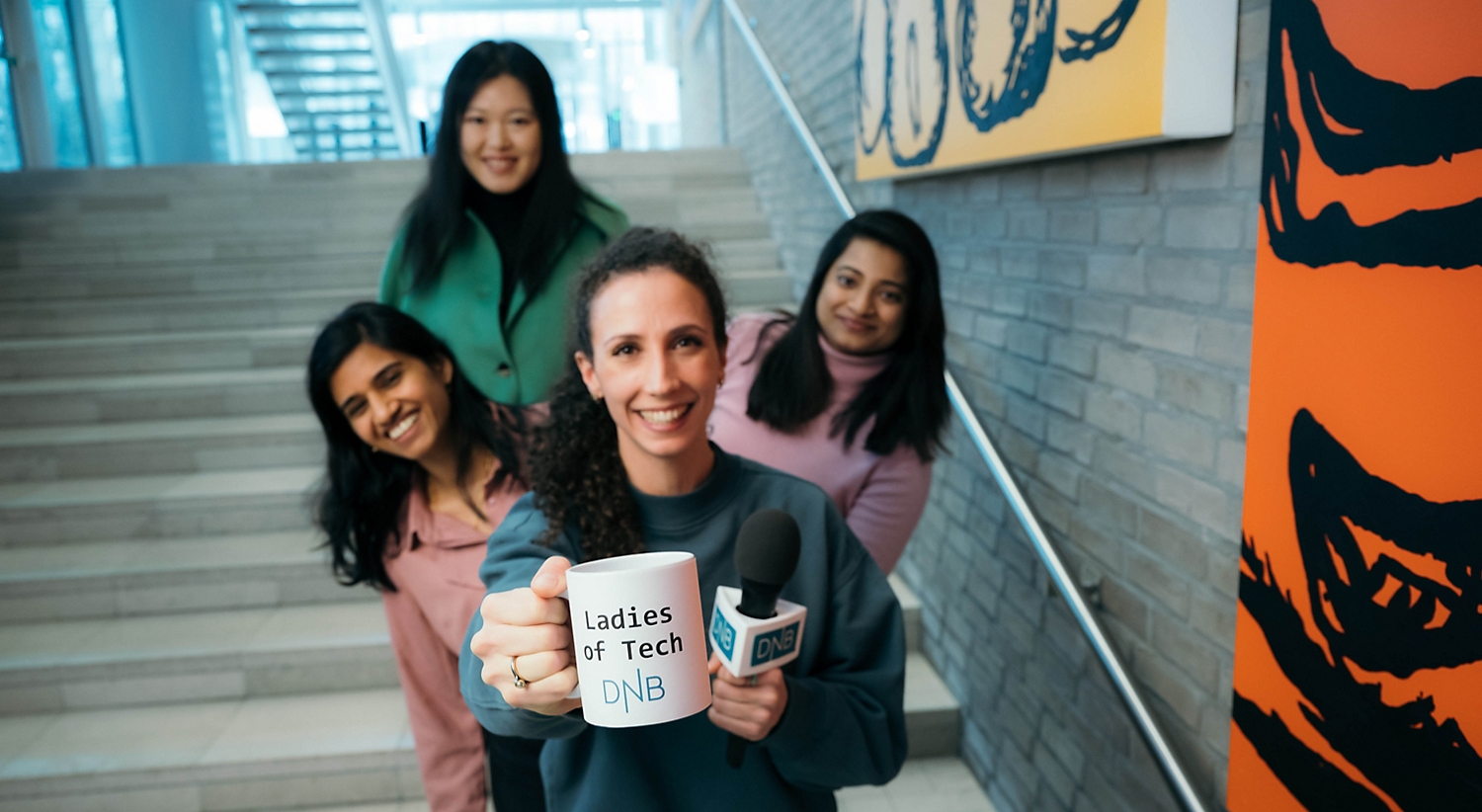 LADIES IN TECH: Nancy Yang Bolstad in the back, Resmi Ravindran to the left, Midhila Mohan to the right and Marina Santos Haugen in front.
Did you know that one of the top five barriers for women in tech is lack of female role models in the field? There is really NO reason this should be a case in DNB, because we have awesome women in tech here!
So, let's get to know them🎙️💬 My name is Marina Santos Haugen, I am a Software Engineer and passionate about getting more women into tech together with the team behind Oda x DNB.
As part of reaching Oda x DNBs goal of fostering role models we are now presenting the interview series "Ladies of Tech". We will in the coming months interview kick-ass female women in tech. To celebrate the International Women's Day, you can now read the three first interviews. Congratulations to all women out there!
Ladies of Tech #1: Meet a multithreading processor in living person, Resmi
Ask her about OAuth and OpenID Connect and she will give you the most insightful answer while she is attending to her screaming child in the background. Not even ChatGPT can do that!
Tell us about a technical achievement that you are proud of? 
I still pursued my passion in OAuth and OpenID Connect and seized the opportunity to implement corporate user authentication for Open Banking apps with the Identity team. This venture helped me learn more about authentication and authorization flow in other DNB applications. Being part of this journey was a real treat, right from the design to the implementation phase.
What do you think is challenging by being a woman in tech?  
Initially, I had to work hard to make my voice heard. Women must work harder than men to gain technical trust. In a way, we must prove ourselves more by implementing complex concepts. I don't know why this happens, maybe because of unconscious biases?
What is your tip to other women in tech?
Never back down. Be decisive even if someone underestimates you. Be bold and follow your passion!
Where do you find inspiration?  
I find inspiration from my senior colleagues. Irrespective of gender, I have been lucky to work with talented people and learn from their problem-solving skills.
Ladies of tech #2: Meet Midhila who worked on the first AWS cloud disaster recovery plan in DNB
Midhila has 10 years of technical experience and is among the people with the best overview of the technical infrastructure of the PSD2 application. She spreads good vibes all day long with the 🙌-emoji.
Tell us about a technical achievement that you are proud of? 
Being part of DNB Open Banking has provided immense freedom and opportunity to explore technical stacks and Cloud infrastructure. When we had to do AWS cloud disaster recovery for Open Banking PSD2 Application layer, I was part of the solution team, and we achieved this in two waves without any unexpected failures in the live environment. It was a journey of almost 8 months and a team of three engineers worked on the solution. It was not a jolly ride, but the night we completed a Vipps payment using the PSD2 APIs hosted from Stockholm instead of Ireland, it was just glorious.
What do you think is challenging by being a woman in tech?  
Women in tech often face multiple challenges, including a shortage of female role models in leadership positions, gender bias and getting imposter syndrome. I have heard casual remarks such as "She is quite good techy for being a woman." These are not perceptions that help you excel in a discussion or in your career, right? Breaking stereotypes is the only way to get through this. Earn the space and take it unapologetically.
What is your tip to other women in tech?
Be curious to learn. Be bold to speak out. Everybody rises by lifting and encouraging each other. Most important thing is to be kind to yourself.
Where do you find inspiration?   
My closest source is to look for inspiration from fellow engineers and their ways of working through pair programming. Also, I prefer listening to women tutors if available while I am learning online to encourage them and it helps me also to trust that I belong (e.g.,TechWorld with Nana).
Ladies of tech #3: Meet Nancy who found it easier to learn programming, than Norwegian
Nancy never thought she would end up as a programmer but has now worked five years as a Software Engineer. She started coding on frontend and has later moved over to also developing cloud solutions on AWS.
Tell us about a technical achievement that you are proud of? 
I am most proud of working on open pages, dnb.no. This is a product with massive impact as it is used by millions of people every day. For example, after my parental leave and with a 9-month baby, I worked on a copy and paste feature to automatically clean up, transform and deserialize content from Microsoft Word and Excel into a React component. This was quite complex and required the usage of tree traversal algorithms (depth-first pre-order). We could buy the same feature from a third party such as TinyMCE used by Confluence, developed by a big team. However, decided to try to build It ourselves with two female developers. We succeeded!
What do you think is challenging by being a woman in tech?  
The biggest challenge I face is not related to me being a woman. It is about how fast tech evolves. There is always a new framework to learn! However, I like to take on challenges. It motivates me.
What is your tip to other women in tech?  
Challenge yourself. Do not be afraid to try out new areas. I was afraid in the beginning when I moved from frontend to exploring backend, but in the end I managed. This message is especially important for women, as they typically do not feel comfortable doing things that they are not 100% sure of, while men tend to jump into it. So, take the challenge.
Where do you find inspiration?  
Lately I have found a lot of inspiration on DNB's Tech Blog! I really recommend it ha-ha.
Disclaimer: The views and opinions expressed in this article are those of the author and do not necessarily reflect the official policy or position of DNB.